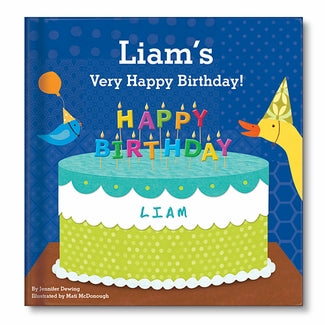 Regular price
Sale price
$29.95 USD
Unit price
per
Sale
Sold out
My Very Happy Birthday is an adorable personalized hardcover book with durable board pages, especially for babies and toddlers. In this delightful story, Duck, Mouse, Turtle, Bluebird and other friends come together to prepare a special birthday party and cake for your little girl. As an added personal touch, this beautifully illustrated book includes a personalized cover and a printed dedication from the sender.
Made in the USA, this storybook is written by award-winning author Jennifer Dewing and illustrated by Mati Rose McDonough.
Gender and ages: Boys ages 0-10. (See our girl version as well.)
Size: 6″ x 6″
Number of pages: 20 durable board pages
Ordering Instructions
If you specify which birthday the child is celebrating (1st, 2nd, 3rd, etc.), the number will be included on the cover and on 5 pages in the book. The cake will include the correct number of candles. If you answer "any" to the question about which birthday the child is celebrating, the book will not include the number birthday (as pictured). We do not calculate which birthday the child is celebrating because many times the book is given as a belated gift after the birthday.
View full details